Oswego Junior Woman's Club Makes Donations to St. Baldrick's, CASA

Mar 19, 2014 05:37PM, Published by Steven Jack, Categories: Today, Community
---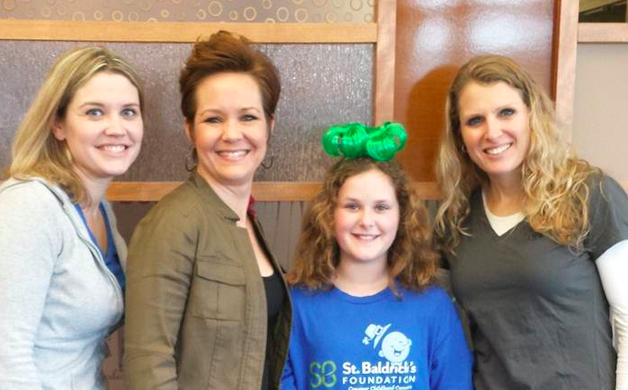 ---
---
Meredith Winn is a normal, healthy fourth-grader in Oswego … until March 21, that is. Then Meredith will become a normal, healthy fourth-grader who has shaved her head to raise funds for St. Baldrick's Foundation, an organization dedicated to childhood cancer research. 
Inspired by Meredith's courage and positive message, the Oswego Junior Woman's Club is donating $400 to St. Baldrick's on Meredith's behalf. 

Also receiving monies from the Oswego Junior Woman's Club is CASA Kendall County. CASA (Court Appointed Special Advocates) volunteers are appointed by judges to serve on cases of child abuse and neglect.

"We are thrilled to be making donations to organizations that help children in such different but important ways," said OJWC President Morgan Adessa. "Meredith's brave, giving spirit has inspired us all, and we are proud to help her reach her $5000 fundraising goal. Meanwhile, fighting child abuse is one of the core causes of our national Women's Club organization, and donating to CASA is very meaningful to us."
The donations to both St. Baldrick's and CASA were funded by from profits from the Oswegoland's Best Pizza Competition. The annual fundraiser, organized by the Oswego Junior Woman's Club, was held on Feb. 8.

The Oswego Junior Woman's Club is a subsidiary of the General Federation of Women's Clubs (GFWC). It is one of the world's largest and oldest women's volunteer service organizations. The GFWC works locally through over 250 Junior clubs and has approximately 8,000 members in the United States. The GFWC members support the arts, preserve natural resources, promote education in various sectors, encourage healthy lifestyles, stress civic involvement and work toward world peace and understanding. 
The Oswego Junior Woman's Club was formed in 2012 as a local charter under GFWC.
---
---
---
---