PrairieFest Fare Not Your Average Carnival Food

Jun 12, 2014 02:27PM, Published by Steven Jack, Categories: PrairieFest, Today, News
---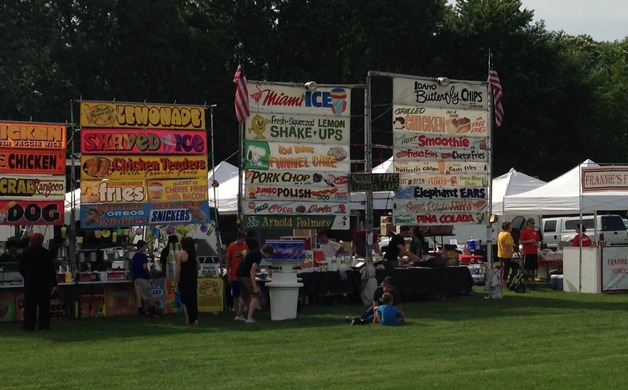 ---
---
If it's the regular old carnival food stnadbys you're looking for when heading out to PrairieFest this weekend, you're sure to find them.
But if you're looking for something unique, you'll find that, too. PrairieFest has become known for its wide selection of food vendors, and the fest has even 
recently received some national attention. 
Here's the complete rundown of food vendors set for this weekend. So, make sure to come hungry. 
Big Kahuna Banana Split, Brownie Delight, Maple Bacon Sundae, Strawberry Shortcake, Apple Dumpling, Frozen Explosion Razzel
Cape May Crab Cakes Crab Cakes (with or without bun) Cilantro Lime Rice, Water
Chicago Classic Pork Chop Sandwich, Chicken or Steak on Pita, Polish Sausage, Elephant Ears, Sweet Potato Fries, Red Velvet Funnel Cake, Fries, Fried Coca Cola, Miami Ice
Cinnamon Station Cinnamom Roll with icing, Caramel with pecan icing, Mini donuts, Brownies
Coach's Catch Inc. Cod, Catfish, Chicken Tenders, Shrimp, Cheese Fries
Dippin' Dots Ice Cream Dippin' Dots Ice Cream Cups
Franks Night Out Notorious P.I.G Hot Dog, Funnel Vision Hot Dog, New Yorker Hot Dog, Garlic Fries, Bacon Bleu Fries, Deep Fried Cookie Dough
Frannie's Funnel Cakes Funnel Cakes, pop, Water
Genoa Pizza Pizza, Italian Sausage, Beef, Brats, Cajun Burger, Chicken Parmigiana, Eggplant Parmigiana Sandwich.
Greek Delights Gyros, Shish-Kabobs, Chicken Divine, Philly Cheese Steak, Sausage, Fries, Spinach Pie, Saganaki Sticks
J & J Parks Concessions, Inc. Funnel Cakes with Toppings, Pop & Water
Lee Concessions Egg Rolls, Grilled Chicken on a Stick w Fried Rice, Orange Chicken w Rice, Shaved Ice, Deep Fried Oreos, Snickers & Twinkie
Little Jimmys Italian Ice Italian Ice, Flavored Lemonade
Old West Soda Old Fashioned Root Beer & Soda
Pizza Cucina Pizza, Meatballs, Pasta w Meatballs, Breaded Steak Sandwich
Quality Concessions Mozzarella Sticks, Cheddar Nuggets, Jalapeno Cheddar, Nachos, Fried Vegetable Combo
Robinson #1 Ribs Boneless Ribs, Pulled Pork, Angus Burgers, Foot Long Polish, 1/2 slab Ribs
Sergios Cantina Chips and Salsa, Shrimp Avocado Tostada, Hard Shell Taco Salad ,Mini Fish Tacos, Fried Ice Cream with Churos
Suzie's Fun Foods Corn Dog Foot Long, Chicken Strips & Wings, Grilled/BBQ Chicken Sandwich, Pretzels, Nachos, Toasted Ravioli
The Strawberry Patch Fruit Cups,Chocolate Covered Strawberries & Bananas, Cheesecake, Deep Fried Blonde Oreos , Nutter Butters, Choc Chip Cookies, Chocolate Strawberry Kabob
Oswego Otters Lemon Shake Ups
Oswego Optimist Club Roasted Corn, Soda
Boy Scout Troop 31 Hotdogs, Chips, Pop/Water
Food Vendor list courtesy of the PrairieFest website.
---
---
---
oswego prairiefest carnival eats food vendors
---