Oswego Boy Earns $1,000 Scholarship For Walk to Aid Africa

Jul 10, 2014 03:44PM, Published by Steven Jack, Categories: Education, Today, Community, News
---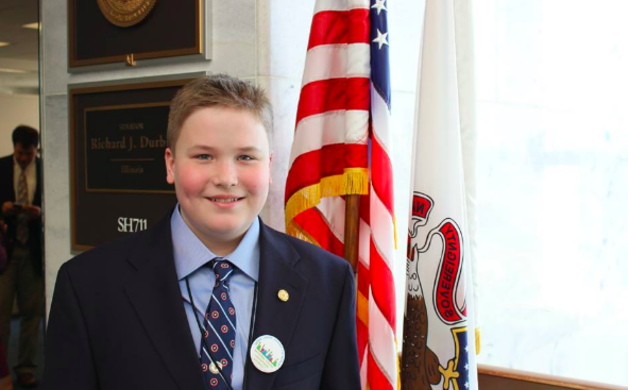 Oswego's Carter Cumbey recently earned a $1,000 Kohl's Cares scholarship. Photo courtesy the SMART2bfit Facebook page
---
---
Oswego's Carter Cumbey recently earned a $1,000 Koh's Cares scholarship for his work planning a walk to educate people on the scarcity of water in impoverished parts of the world.
Carter and his sister Madeline are the co-founders of SMART2bfit, an organization that encourages people to "solve real world problems in a healthy way." Their Walk4Water was held in late June in Naperville and raised money to build a well at a primary school in South Africa. 
To learn more about SMART2bfit, check ou
t their website
and
Facebook page. 
"Kohl's is proud to recognize the 182 regional winners nationwide for their dedication to making their communities a better place to live," said Bevin Bailis, Kohl's senior vice president, communications and public relations. "We commend these bright volunteers for being inspiring examples for others as they have made a difference in their own communities and touched the lives of others through their efforts."
Winners are chosen based on initiative, leadership, generosity and project benefits and outcome. Each regional-level winner qualifies for one of Kohl's 10 national scholarships, which will be announced at the end of July.

National winners will each receive a total of $10,000 in scholarships, and Kohl's will donate $1,000 to a nonprofit organization on each national winner's behalf. In total, Kohl's will recognize more than 2,300 young volunteers with nearly $400,000 in scholarships and prizes.
Since the program began in 2001, Kohl's has recognized more than 22,000 kids, including the 2014 winners, with more than $4.3 million in scholarships and prizes.
The Kohl's Cares®
Scholarship Program is part of Kohl's Cares®, Kohl's philanthropic program focused on improving the lives of children. For more information on the Kohl's Cares®
Scholarship Program visit 
kohlskids.com
.
---
---
---
---