Little White School Reunion Planned

Sep 01, 2014 10:19PM, Published by Steven Jack, Categories: Community
---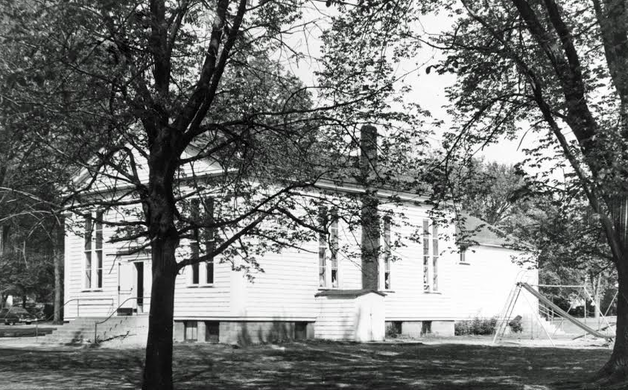 The Oswegoland Heritage Association is hosting a "My Old School" alumni reunion from 11 a.m. to 3 p.m. on Saturday, Sept. 27, at the Little White School Museum, 72 Polk Street (Polk at Jackson), in Oswego. Anyone who attended school is invited to drop by to tour the building and share memories and memorabilia with classmates. Oswego photographer Homer Durand snapped this photo of the building in May 1958. For more information, call the museum at 630-554-2999 or send an email to info@littlewhiteschoolmuseum.org.
---
---
Did you ever attend Oswego's historic Little White School? Everyone who attended the Little White School is invited to return to their old school on Saturday, Sept. 27, for the first "My Old School" alumni reunion.
From 11 a.m. to 3 p.m., the Oswegoland Heritage Association will host a gathering to give alumni a chance to tour their old school and to collect as many memories of the school and the Oswego School District as possible. The event will be held at the Little White School Museum, 72 Polk Street (Polk at Jackson), Oswego.
Do you have a memory, an old report card, or a photo of classmates to share?

Featured during the day there will be memorabilia from the museum archives including yearbooks and photos; a repeating slide show featuring the Oswego School District during the 1956-1957 school year; walking tours of historic Oswego at 
11:30 and 1 p.m.
 (how good is your memory and knowledge of old Oswego?); the chance to participate in an oral survey to tell your stories and have your words preserved in the museum's collections and to help the heritage association build a record of Little White School alumni; a Donation Station for those interested in donating Little White School mementoes and memorabilia to the museum's collections to assure their preservation and enjoyment by future generations; a 1000 Words Photo Booth where photos of your school days can be brought (donations of original photos are preferred but we will scan and return photos while you wait if you want to keep them); a special souvenir button for anyone who attended the Little White School; raffles; and, thanks to Little White School alum Bob Cutter, treats to eat.

The Little White School Museum began life in 1850 as a Methodist-Episcopal Church. The congregation dissolved in 1913 and two years later, the Oswego School District purchased the building. Until 1960, the building housed primary grade classes. That year, due to school district overcrowding, the building began its final career as junior high classroom space.
The building was closed at the end of the 1963-64 school year, and was used as school district storage space.
In 1976, the Oswegoland Heritage Association was established to spearhead the building's restoration in close cooperation with the Oswegoland Park District, a project that began in 1977 and continued until it was completed—with extensive community volunteer involvement—in 2001.
Today the building houses a community museum and archives, and provides meeting space for local organizations as well as a site for weddings and other event.
For more information on the "My Old School" Little White School alumni reunion or on the Little White School Museum, call 630-554-2999, email 
info@littlewhiteschoolmuseum.org
, or visit the museum's web site at 
www.littlewhiteschoolmuseum.org
---
---
---
---