Oswego District 308 Dual Language Parents in Renewed Fight to Save Program

Feb 10, 2015 03:17PM, Published by Steven Jack, Categories: Education, Today, News
---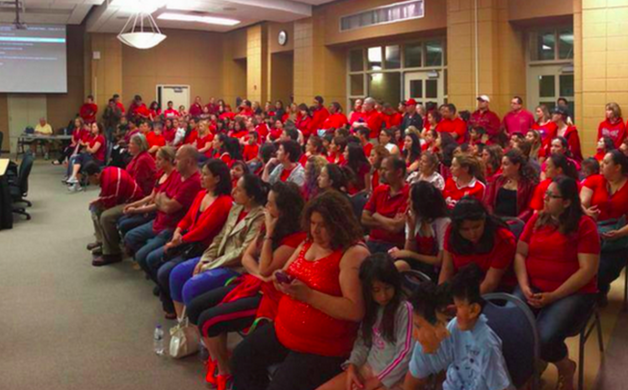 Parents supporting Oswego School District 308's Dual Language program crowded into a May School Board meeting in a show of support for the program. File Photo Courtesey of Todd Andrlik
---
---
The Oswego School District 308 School Board could move to formally dismantle the district's Dual Language program at its next meeting.
Administrators Monday night presented the board with two options to move forward with the district's struggling English Language Learners program — the first would actually expand the Dual Language program across the district, and a second would eliminate the program after next year to focus on a one-way total English immersion for native Spanish-speaking students.
RELATED: Dual Language Parents 'Cautiously Optimistic' After Special Board Meeting
In its presentation, the administration said expanding the Dual Language program would cost the district another $1 million annually for a total of $1.8 million. Administrators said the second option would only cost the district another $280,000 annually, but would place all native Spanish speakers into an immersion program with the goal to develop both English and Spanish language skills over time. 

Another benefit of the second option, administrators said, would be that federal dollars could be used to help fund the program. Federal funding is not available to help pay for the immersion education of native English speakers that would make up a portion of the student population in Option 1.
When asked directly which option he supports, Superintendent Matthew Wendt said Option 2 is the most cost-effective for the district, as Option 1 would also require the district to hire 23 more teachers than Option 2, costing an additional $1.6 million. 
Wendt said he disagreed with a 2014 outside audit ordered by the district of its ELL program that revealed the district's Dual Language program is cost neutral.
"Do I feel this district can afford to put another $1 million in to this (Dual Language) program? I do not," he said. 
Members of the district's Bilingual Parents Advisory Council, who have been fighting for nearly a year to save Dual Language, accused the administration of inflating the costs of Option 1 to justify the elimination of DL.
"We believe they are over-pricing the DL option by $1.4 million," said Dominick Cirone, a Dual Language parent and a member of the BPAC.
He also called the district's claim of 27 more teachers needed for an expanded Dual Language program "ludicrous."
Another proposal discussed as part of Option 2 is to move all English Language Learner students into just two schools. That idea also did not sit well with BPAC members.
"We do not want our Spanish speakers segregated from their English-speaking peers, said BPAC Vice President JC  Reveles, "The beauty of Dual Language – or two-way immersion – is that both sets of children learn each other's language and come to value diversity."
A final vote on the future of the district's ELL program could come as soon as the board's next meeting scheduled for Monday, Feb. 23.
---
---
---
---