OHS Culinary Arts Students to Compete at Nationals

Mar 25, 2015 12:35PM, Published by Steven Jack, Categories: Education, Today, News
---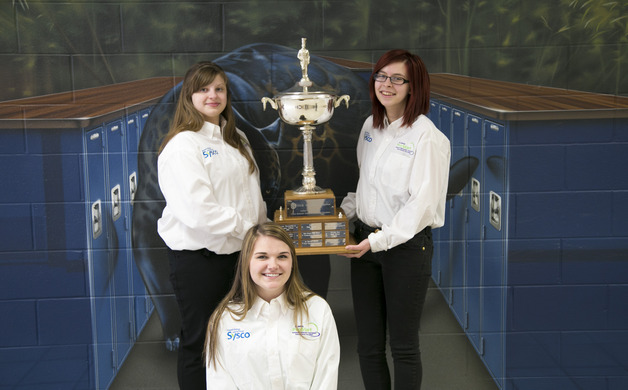 Courtesy photos
---
Gallery: OHS Culinary Arts Students to Compete at Nationals [1 Image] Click any image to expand.
---
---
The Oswego High School (OHS) culinary arts management team edged out eight other teams to take first place at last month's 
ProStart® Invitational
. The OHS culinary team beat 11 other teams to take fourth in the state competition, hosted by the Illinois Restaurant Association Educational Foundation on Feb. 28 at McCormick Place in Chicago. 
OHS' management team—Alex Barringer, Taylor Walgren and Isabella Peter—will now compete at the National ProStart® Invitational, which will be held at Disneyland in Anaheim, Calif., April 17-20. The team will compete against the top teams from 47 states. First-, second- and third-place finishers will be awarded scholarships and prizes. 
Culinary team members were Julian Alvarado, Miguel Acosta, D'Artangan Thurmond, Grace McLennan, and Alyssa Plohr. 
Thomas Dwyer, culinary arts teacher, instituted the ProStart® program when he started at OHS eight years ago. He and his teams have been very aggressive in executing the program—for good reason. 
"There are a lot of scholarships attached to ProStart®. It's a good opportunity for young people who want to go into this type of work, whether they want to be a chef, hotel manager, nutritionist, or whatever," Dwyer said. "As of last year, I had 12 kids in culinary school, four or five kids actually working in the industry, and a number of other students in the food technology industry." 
The OHS management team is currently prepping for the national competition by refining its project.

"The students develop a business model for an original concept with a business plan, including written, visual and PowerPoint versions. They build it from the ground up, including graphics and multimedia elements," said Dwyer. "They then propose it to judges who sit in as business investors."

PROVIDED BY SCHOOL DISTRICT 308
---
---
---