Oswego School District 308 Releases Facebook Commenting Guidelines

Apr 06, 2015 04:29PM, Published by Steven Jack, Categories: Education, News
---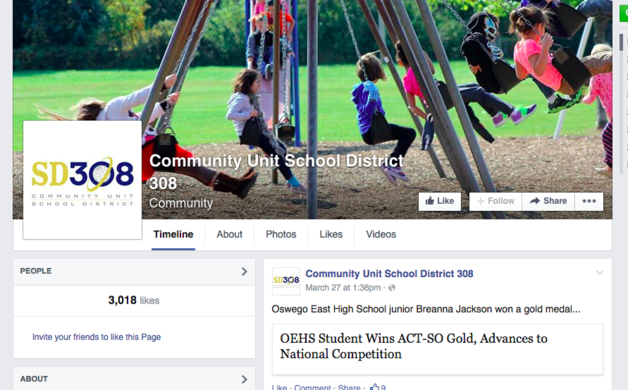 ---
---
One week after a report of School District 308 deleting comments from
its Facebook page 
without a policy stating what comments are allowed, the district announced late Monday afternoon a new set of commenting guidelines is now in place.
In a statement sent to parents via email, the district said the new guidelines were developed by the attorneys representing the School Board. Previously, School Board President Bill Walsh said the board's Policy Committee would develop the policy.
"District 308 appreciates the community's interest and engagement in the District's news and activities.  With the goal of creating a place where the District can share and the community can view and respond to District news, the Comment Guidelines were developed by attorneys from the law firm representing the Board of Education," the statement reads. "Facebook followers are requested to recognize that the school district strives to model good citizenship for our students."
Several parents in recent weeks have questioned the district over the deletion of comments from the District 308 Facebook page. Deleted comments collected by Only Oswego have ranged from a question over the change of the district's name to others wanting answers regarding district expenditures. 
According to the new guidelines, which can be found under the Welcome Button on the district's Facebook page, comments that contain the following can be deleted:
Statements unrelated to the purpose and topical scope of the page.
Profanity, obscenity or vulgarity.
Content that promotes, fosters or perpetuates discrimination on the basis of race, color, age, religion, gender, ancestry, marital status, disability, sexual orientation, military status, order of protection status, national origin, or any other classification protected under Illinois or federal law.
Sexual content or links to sexual content.
Incitement to imminent lawless action.
Fighting words.
Threats.
Fraud.
Defamation.
Solicitations to commit, or speech integral to, criminal conduct.
Promotion or advertisement of a business or commercial transaction.
Promotion in favor of, or in opposition to, a candidate campaigning for election to a political office.
Copyrighted material (if posted without the copyright holder's consent).
The guidelines also state the district's Facebook page is not a public forum, but rather a moderated online discussion site, and the district asks that commenters "model good citizenship for our students," and remain "courteous and civil toward one another."
---
---
---