Local Students Earn National Homeschool Award

May 08, 2015 02:22PM, Published by Steven Jack, Categories: Education, Today, News
---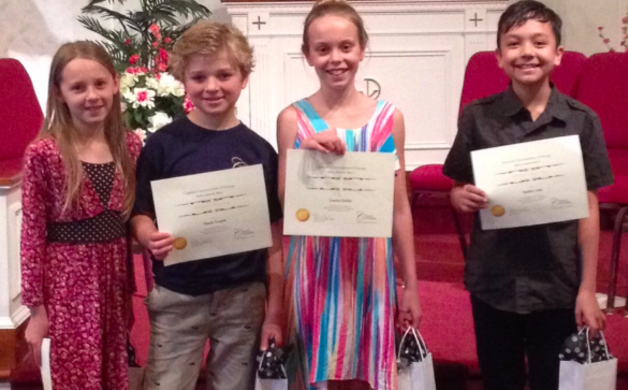 The students from left to right are: Taylor Wright, Dasch Temple, Lauren Riddle and Nathan Luna
---
---
Four students from the Oswego Classical Conversations homeschool community, Taylor Wright, Dasch Temple, Lauren Riddle and Nathan Luna, recently capped months of study by correctly reciting hundreds of facts from a multitude of subjects as part of the Classical Conversations Memory Master program.

The students, ranging in age from 8-12 years old, earned the Memory Master award on April 28 after each child spent over two hours recalling facts from six subjects, as well as a history timeline, at the Neighborhood Church of the Brethren campus.
Classical Conversations is an educational homeschool group that follows the Classical Education model. Memory Master is an award that is available to all Classical Conversations participants nationwide.
Besides a chronological timeline of 160 events and people, the other subjects were: history, including the Preamble to the Constitution and the Bill of Rights; 120 locations and geographic features in the United States and other regions of North America; science, including the elements of the periodic table and the parts of eight body systems; Latin rules and vocabulary, including the text of the Gospel of John 1:1-7 in both Latin and English; English grammar facts; math, including common squares and cubes, basic geometry formulas, and unit conversions; and reciting all 44 US presidents.
Classical Education is based on a three-part approach to learning known as the trivium. The component of Classical education for elementary-age students is known as the grammar stage, which emphasizes acquisition of facts. The Oswego campus also hosts a middle and high school program for homeschoolers.
To learn more about Classical Conversations, contact Blair Diggle at bdiggle@att.net, or visit www.classicalconversations.com
INFORMATION AND PHOTO SUBMITTED BY BLAIR DIGGLE
---
---
---