Kendall County Sheriff Adds Three Mounted Deputies

Jul 01, 2015 04:54PM, Published by Steven Jack, Categories: Today, News, Police
---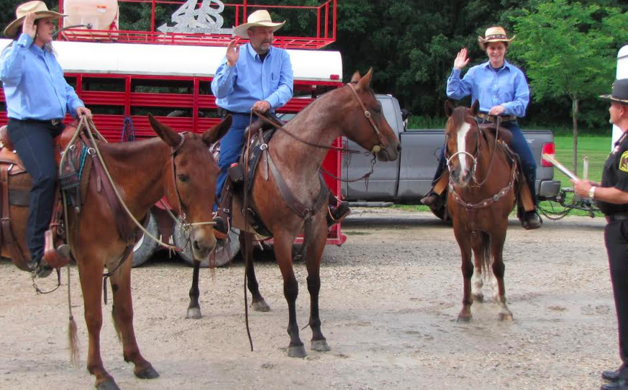 Kendall County Sheriff Dwight Baird swears in the county's new auxiliary mounted patrol unit on Monday June 29.
---
---
The Kendall County Sheriff's Office has added an auxiliary mounted patrol unit. 
The unit is comprised of three deputies and their horses that can be used to patrol parks and neighborhoods. Mounted deputies may be seen at large spectator events throughout the county. 
They work closely with the Kendall County Emergency Management Agency and are particularly effective in conducting missing person searches, especially in wooded terrain that inhibits the use of vehicles. The unit functions as a result of tremendous community support and generosity, with volunteers providing the horses, stable maintenance, and horse care.
The Mounted Patrol Unit is currently staffed by three deputies. They are Auxiliary Deputy Cindy Benson, Auxiliary Deputy Terry Benson, and Part-Time Deputy Cherese Spears. 
On June 29, the three deputies were sworn into service by Sheriff Dwight A. Baird at the Ellis House and Equestrian Center. 
"We are always looking for ways to expand our public safety service and create partnerships with our residents," Baird said. "The auxiliary mounted deputies will greatly enhance service to our remote areas in the county and our forest preserve areas."
Collectively, the three deputies have 97 years of riding experience. Deputy Cherese Spears is also a full-time Oswego police officer who has served since 2003. Deputy Cherese Spears rides a 20 year old Paint named JoJo. Deputy Cindy Benson rides a 13 year old Mule named Reba. Deputy Terry Benson rides a 7 year old Bayon Quarter Horse named Koda.
INFORMATION AND PHOTO PROVIDED BY THE KENDALL COUNTY SHERIFF'S OFFICE
---
---
---